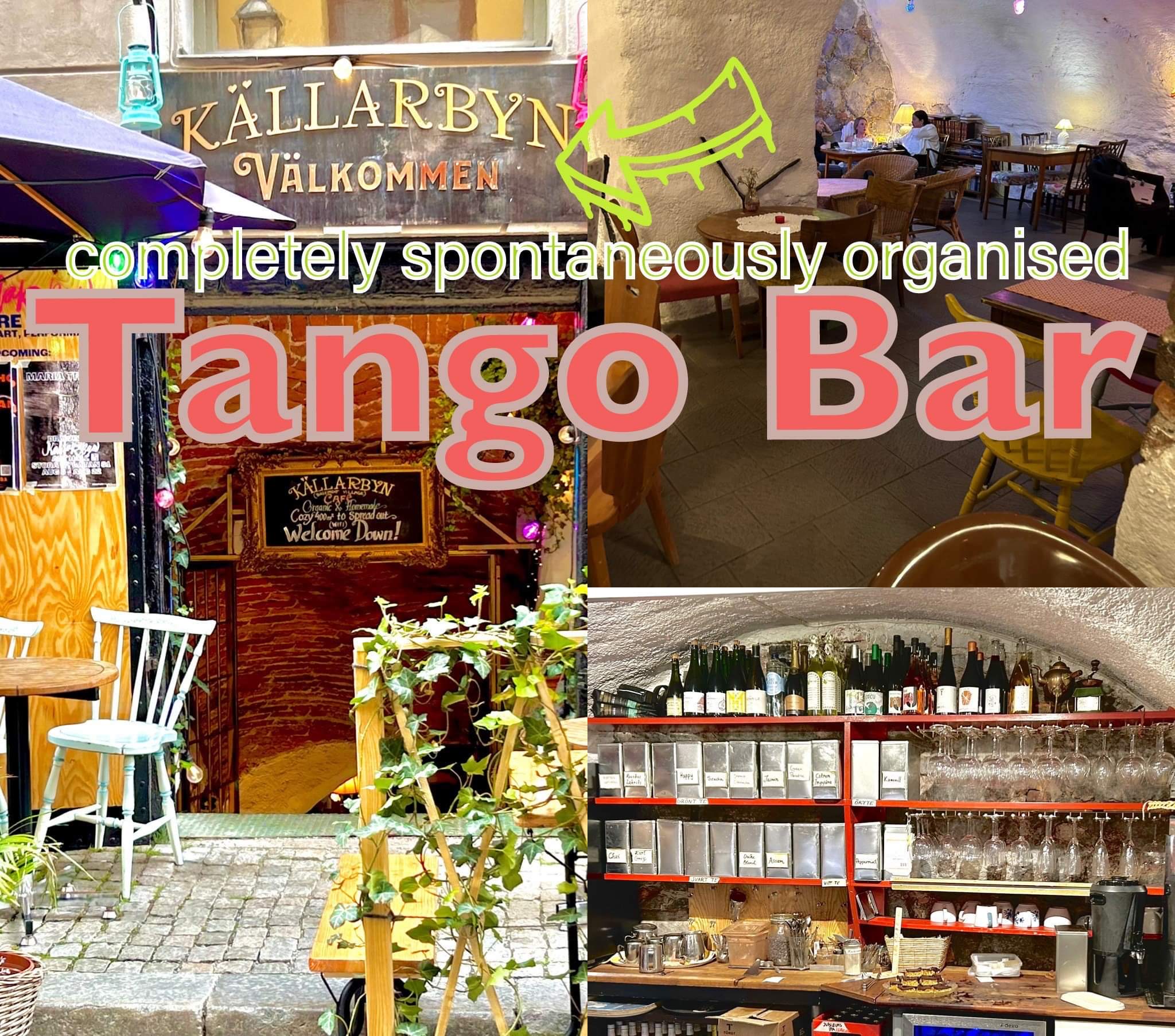 Tangobar
Tangobar
och dansa tango nere i de gamla vinvalven från 1600-talet på trevliga
Källarbyn
, som är Gamla stans bästa kulturklubb och underjordiska scen. Konserter-konst-scen-fika-mat-öl-vin…och nu även tango!
"Tango Bar" är precis som det låter, vi flyttar om några bord, kopplar upp musiken i högtalarna och dansar tango medan vi umgås över alltifrån antingen en kaffe, hembakat fikabröd, ett glas naturvin, en öl, eller hugger in på en ekologisk lasagne (nästan allt på Källarbyn är ekologiskt)…och såklart – vi dansar tango!!!
Det kommer naturligtvis också finnas en del vanliga gäster nere på Källarbyn samtidigt och som sitter där ibland alla tangodansare.
"Tango Bar" är INTE "Den Tillfälliga Milongan", men den är också högst tillfällig och den kan kan såklart dyka upp igen.
Dag och tid vi valt för dagens "Tango Bar" är utifrån hur Källarbyns schema ser ut och när Marce är i stan. Blir det fler tillfällen kan både veckodag och tid se annorlunda ut.
Vi har valt att debitera endast 30: – (Swish eller kontant) för att dansa (lite pengar för DJ) och med en önskan att ni då även köper något att äta eller dricka i caféet/baren.
Golvet i mysiga Källarbyn är ett stengolv med bra glid, så de flesta skor fungerar bra att dansa tango i där.
Tango Bar är från 17:30-21:00 ungefär.
OBS Källarbyn kan ha maximum 150 personer i lokalen, inklusive sig själva och vanliga bargäster.
Arrangörer för Tango Bar är:
Katina Morini, Marcelo Almiron och Källarbyn.
Kvällens dj
Marcelo
__________________________________________
Come and dance tango down in the old wine vaults from the 17th century at the pleasant Källarbyn, which is the Old Town's best cultural club and underground scene. Concerts-art-stage-coffee-food-beer-wine…and now also tango!
"Tango Bar" is exactly as it sounds, we move a few tables, connect the music to the speakers and dance tango while we socialize over either a coffee, home-baked coffee bread, a glass of natural wine, a beer, or bite into an organic lasagna (almost everything at Källarbyn is organic) …and of course – we dance tango!!!
"Tango Bar" is NOT Den Tillfälliga Milongan, but it is also very temporary and it can of course appear again.
The day and time we chose for today's "Tango Bar" is based on how Källarbyn's schedule looks like and when Marce is in town. If there are more occasions, both the day of the week and the time may look different.
We have chosen to charge only 30: – (Swish or cash) for dancing (a little money for the DJ) and with the wish that you also buy something to eat or drink in the café/bar.
The floor in cozy Källarbyn is a stone floor with good slip, so most shoes work well to dance tango in there.
Tango Bar is from 17:30-21:00 approximately.
Organizers for Tango Bar are:
Katina Morini, Marcelo Almiron and Källarbyn.
Tonight's DJ Marcelo