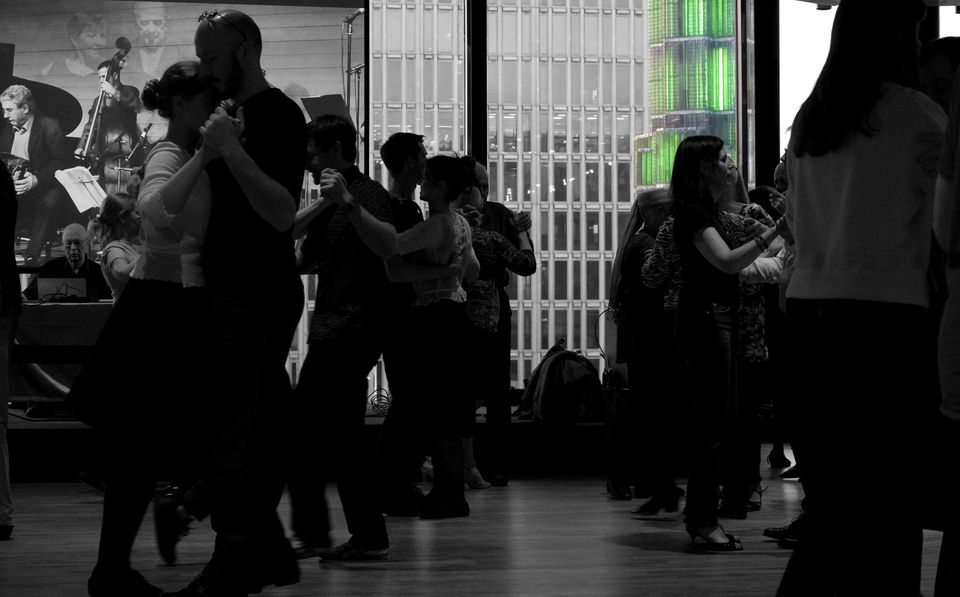 Tango på Kulturhuset
Tango på Kulturhuset
(𝘌𝘯𝘭𝘨𝘭𝘪𝘴𝘩 𝘣𝘦𝘭𝘰𝘸)
𝗣𝗿𝗼𝘃𝗮 𝗽𝗮̊ 𝗮𝘁𝘁 𝗱𝗮𝗻𝘀𝗮 𝗮𝗿𝗴𝗲𝗻𝘁𝗶𝗻𝘀𝗸 𝘁𝗮𝗻𝗴𝗼 – ett av UNESCO klassat immateriellt kulturarv! Ideella föreningen Tango Norte bjuder in till tangokväll på Kulturhuset vid T-Centralen, på 3:e våningen (𝗙𝗼𝗮𝗷𝗲́ 𝟯) med utsikt över Sergels Torg.
Vi inleder kvällen med en gratis 𝗽𝗿𝗼𝘃𝗮-𝗽𝗮̊ 𝗸𝘂𝗿𝘀 𝗳𝗼̈𝗿 𝗻𝘆𝗯𝗼̈𝗿𝗷𝗮𝗿𝗲 (𝟭𝟴.𝟬𝟬-𝟭𝟵.𝟬𝟬) Våra instruktörer Martin & Nina lär dig grunderna för att vara med på den efterföljande dansen, där ✨Stockholms erfarna dansare är på plats✨ för att hjälpa och välkomna dig in i tangofamiljen.
𝗗𝗝 Mario spelar underbar sensuell tangomusik hela kvällen och teaterbaren är öppen.
Tango är en pardans där man dansar en känsla eller som argentinare själva säger, '𝘭𝘢 𝘷𝘪𝘥𝘢 𝘦𝘴 𝘶𝘯 𝘵𝘢𝘯𝘨𝘰, 𝘺 𝘩𝘢𝘺 𝘲𝘶𝘦 𝘴𝘢𝘣𝘦𝘳 𝘣𝘢𝘪𝘭𝘢𝘳𝘭𝘰' – livet är en tangodans, och man behöver lära sig dansa det. Inträde (efter 19:00) 50kr
Alla är varmt välkomna, ta gärna med dig alla du känner och prova-på denna meditativa och passionerade dans!
__________________________
Tango på Kulturhuset
𝗖𝗼𝗺𝗲 𝗮𝗻𝗱 𝘁𝗿𝘆 𝗔𝗿𝗴𝗲𝗻𝘁𝗶𝗻𝗶𝗮𝗻 𝘁𝗮𝗻𝗴𝗼 – a UNESCO intangible cultural heritage! Tango Norte invites you to a tango evening at Kulturhuset, on the 3rd floor (𝗙𝗼𝗮𝗷𝗲́ 𝟯) with a view over Sergels Torg.
We will start the evening with 𝗮 free 𝗶𝗻𝘁𝗿𝗼𝗱𝘂𝗰𝘁𝗼𝗿𝘆 𝗰𝗼𝘂𝗿𝘀𝗲 𝗳𝗼𝗿 𝗯𝗲𝗴𝗶𝗻𝗻𝗲𝗿𝘀 (𝟭𝟴.𝟬𝟬-𝟭𝟵.𝟬𝟬) led by our instructors Martin and Nina who will teach you the basics of tango so that you can join the dance floor later in the evening, where ✨experienced dancers from the tango community in Stockholm will be there✨ to help and welcome you into the tango community.
𝗗𝗝 Mario will play wonderful and sensual tango music the whole evening and the Theater Bar is open!
Tango is about dancing a feeling, or as Argentinians themselves say, '𝘭𝘢 𝘷𝘪𝘥𝘢 𝘦𝘴 𝘶𝘯 𝘵𝘢𝘯𝘨𝘰, 𝘺 𝘩𝘢𝘺 𝘲𝘶𝘦 𝘴𝘢𝘣𝘦𝘳 𝘣𝘢𝘪𝘭𝘢𝘳𝘭𝘰' – life is a tango and you need to know how to dance it. Admission (after 19:00) 50sek
Please feel warmly welcome and bring all your friends to an evening full of meditative and passionate dance!
// 𝗧𝘂𝗲𝘀𝗱𝗮𝘆, October 𝟭0𝘁𝗵 (18:00-21:00) //
🔸18:00-19:00 Free Intro for beginners by Nina Basso & Martin Rylander
🔸19:00-21:00 Social dance (ft. DJ Mario) Admission 50:-