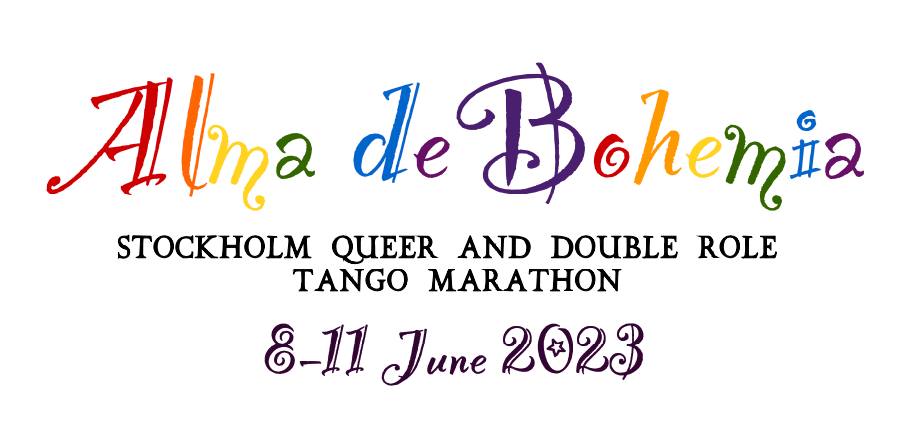 Alma de Bohemia 2023
Alma de Bohemia
Evenemang av Jessica Carleson, Malin Backström och 3 andra
Konstnärshuset
Längd: 3 dagar
Offentlig  · Alla på och utanför Facebook
A very warm welcome to our double role and queer tango marathon in Stockholm, 8–11 June 2023.
Giddy with happiness after our first marathon in June 2022 we decided to organise a second edition.
Our hope is to again welcome a lovely mix of Swedish and international double role and queer dancers. The capacity is 80-90 dancers as we return to the beautiful venue Konstnärshuset at Smålandsgatan 7 in the city centre, and the outdoor pavilion Stora Skuggan in Royal park Djurgården.
Registration starts 15 January 2023 at our site http://www.almadebohemia.se
If you have questions please email: almadebohemia@telia.com
—————————————
PROGRAM
Thursday 8 June
18:00-22:30 A taste of Alma de Bohemia. Pre-milonga at Stora Skuggan. Open for everyone. Free for marathon-participants.
Friday 9 June
Konstnärshuset
18.30 A warm welcome and registration at Konstnärshuset, Smålandsgatan 7.
19.00–00.30 Milonga.
Saturday 10 June
Konstnärshuset
13.00–18.00 Milonga
18.00–20.00 Break
20.00–00.30 Milonga
Sunday 11 June
Konstnärshuset
12.00–18.00 Milonga.
And warm hugs until we meet again.
Welcome!
Team Alma de Bohemia
Arja, Jessica, Ulla, Malin and Henny